Global Partners
To enhance the value of our services and satisfy other unique customer and client needs, Brand Web Designs maintains alliance partner relationships with organizations that are well respected leaders in their respective industries.



AVG has led the world in anti-virus protection for years. 80 million people around the globe rely on AVG to protect them while they're online or offline, AVG will protect you when Banking and shopping, surfing and searching, chatting and emailing, or downloading files and social networking - AVG has a protection product that's right for you!



Use PayPal to receive payments easily and safely. Start accepting credit card payments in minutes. Reach out to millions of active PayPal buyers by integrating PayPal into your existing e-commerce solution.

The PayPal Business Account features:
Low cost. No start-up or monthly fees, no cancellation fees and no minimum payments Lower transaction fees
than other merchant accounts


Quick setup. Sign up and get started in minutes. No extra software or hardware needed


Security. As an industry leader in fraud prevention and risk management, PayPal has 60%-70% lower fraud
loss rates than other merchant accounts


Network of buyers. One in three online buyers in the US has a PayPal account, and over 58,000 users
worldwide sign up for PayPal each day.



Comodo, through its group of Internet security companies, is a leading Certification Authority and global provider of Identity and Trust Assurance services on the Internet. Comodo secures and authenticates online transactions and communications for over 2,000,000 businesses and consumers.

With a global presence Comodo offers businesses and consumers third-generation solutions for intelligent security and authentication technologies that create trust online. Comodo's technological expertise includes PKI digital certification, Code

signing certification, integrated authentication infrastructure services, Web Content authentication, secure messaging solutions, regulatory compliance solutions, and digital e-commerce services.



The Business Accountz range of accounting and bookkeeping software puts you in control of your business finances, from simple bookkeeping to instant VAT Returns and Profit and Loss. Track your income and outgoings with ease and submit your accounts via email direct to your accountant to sign off at year end. BrandWebDesigns use and recommend Business Accountz software.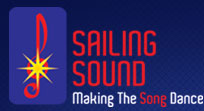 The studio allows the Artist to sculpt their material into an exciting piece of work. Sailing Sound offers a relaxed environment, where the Artist can be creative. As a producer it's important to share a vision of the song, which normally starts with a consultation. However much I like to play with song, it is important that it is recorded to a high standard, using professional studio gear. Sailing Sound is a small studio and cannot accommodate full bands with drums. However, when it comes to recording drums we use another studio, with professional engineers. We can however do overdubs, mixing and mastering here.